Discography Liner notes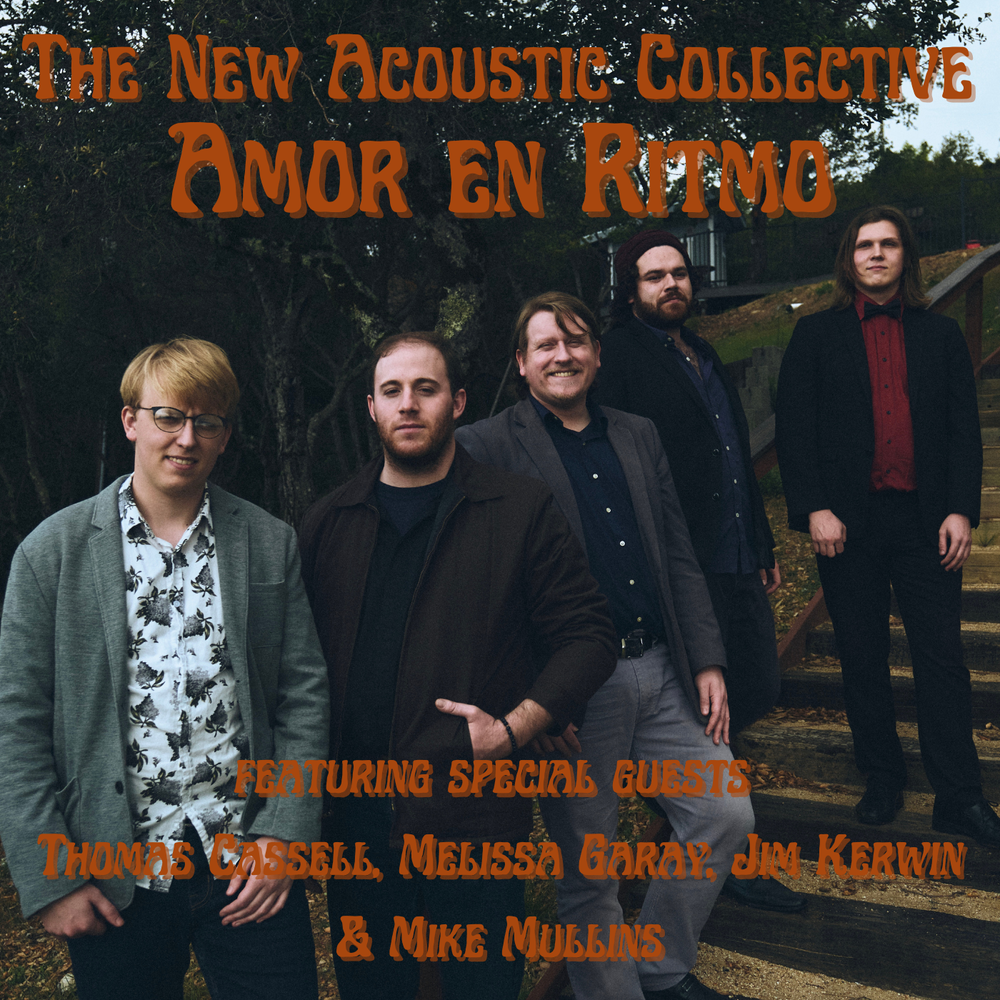 Amor en Ritmo Liner Notes
by Mike Mullins
Like many string players coming of age in 1976, I found myself captivated by the nothing-short-of-revolutionary Kaleidoscope album "The David Grisman Quintet." The impact of this powerful, expressive, mandolin-driven project was akin to that of a genre-busting wrecking ball. The album defied stylistic pigeonholing, and quickly came to be known as "Dawg Music" for its sophisticated arrangements drawing from equal parts jazz and bluegrass, with hints of eastern European polyrhythms, executed with classical precision on time-honored stringed instruments long associated with bluegrass, folk, and roots music.
It was a seismic jolt to us pickers still trying to learn "Rawhide" and forever changed the conversation about acoustic string music. It was a wake up call for young players like myself to embrace some incredible new possibilities, whether we were capable of playing this stuff or not.
Artists at the vanguard of this music, such as David Grisman, Tony Rice, Darol Anger, and Mike Marshall were not content to rest on their laurels, and their successive recordings encompassed bold stylistic advancements and ever-more esoteric influences. Among these influences (particularly for David Grisman), was Latin jazz, which brings us to this recording, The New Acoustic Collective's 3rd album release; "Amor en Ritmo."
The New Acoustic Collective's brilliant 2021 recording, "Art of Acoustics" featuring special guest Wyatt Rice, paid homage to the aforementioned stylings of David Grisman and Tony Rice, and indeed expanded on them. Their newest release, "Amor en Ritmo," (Love in Rhythm) continues this tradition, but this time lovingly embraces a Latin jazz setting, inspired by The David Grisman Quintet's 1995 latin jazz release; "Dawg A Nova".
Not only is NAC bandleader Jason Keiser a brilliant guitarist, he is an accomplished composer, effortlessly expressing his musicality over a range of styles, with Latin jazz being a perfect vehicle for showcasing his talents. In collaboration with cellist Nathaniel Grohmann, double-bassist Rodrigo Ruiz (the classically trained NAC core unit), and the beautifully controlled, soaring vocals of Melissa Garay, the Collective has delivered a work of wonderful musicality and sophistication. The project also benefits from sideman Jacob Jackman (trumpet/flügelhorn) and special guests; Thomas Cassell (mandolin), Melissa Garay (vocals/lyrics), and Jim Kerwin, the virtuoso longtime bassist for David Grisman. Additionally, I am honored to be included for a cameo mandolin appearance on John Carlini's "Mugavero."
Jason's soulful compositions such as "Bolero de Viaje," the joyful "Um Abração," and the torchy "Dawg's Cha Cha" balance very well stylistically with Luiz Bonfa's classic "Black Orpheus" and Paco de Lucia's "Entre Dos Aguas." Guitar compositions by the Rice Brothers are also represented via sizzling versions of Wyatt's "Damascus" and Tony's "Möbius Mambo," with Thomas Cassell's fluidly exuberant mandolin outstanding throughout. My personal favorite is the haunting, march-like "Poirot's Predicament," also composed by Jason.
Melissa Garay's vocals on "Black Orpheus" and "Pequeña Avé" (lyrics written by Melissa with composition/arranging done by Jason Keiser) add a plaintive, shimmering intimacy to an otherwise instrumental project. And what a project it is. 
I am very impressed by the depth and maturity of the music created by these adventurous artists, and even more impressed by their reverence and continued curation of Dawg and New Acoustic string music. As a grizzled member of the old guard, I feel honored to have been invited to collaborate with The New Acoustic Collective and very much look forward to what these stellar young players accomplish next.
Mike Mullins, mandolinist/guitarist/composer, Acoustic Oasis recording artist
"Amor en Ritmo" Song Notes by Jason Keiser
When thinking about how "Amor en Ritmo" came together with both the core band members and special guests featured on this record, there is a saying that immediately comes to my mind, which I will include for the readers below…
"Limitations foster creativity. Tell an artist to paint anything, and he may struggle, but tell him to create something specific, in a set amount of time, for a certain audience, and these constraints might well push him to produce something he might never have come up with on his own. We grow and evolve by testing ourselves." ― wildbow
Thus, "Amor en Ritmo" featuring Thomas Cassell, Melissa Garay, Jim Kerwin, & Mike Mullins was born! I'm immensely proud and excited about this album, and I hope you enjoy every tune as much as I have in both the writing, composing, arranging, rehearsing, and the whole recording process! 
As the quote states "limitations foster creativity". Many of the themes and the concept behind this record came about after we finished performing our 2021 Official Showcase as Official Showcase artists at IBMA's World of Bluegrass in September of 2021. We had just gotten back from a lengthy trip to NC, we drove in fact, everyone was tired, and I for one was looking and listening to some different musical things at that time. At this point in time, we had some personnel changes in the band, and the music was moving in a slightly different direction compared to the more Bluegrass-SpaceGrass oriented sounds/tunes we had been doing such as from "Buckwild", and our 2nd release "Art of Acoustics". I continued to think about how to cater to the band and musicians I had at the time, and then began considering who would excel in this new project as special guests! I have always been a huge fanatic of all things within the canon of latin music, everything from the fania salsa classics by Hector Lavoe, to Paco de Lucia's beautiful flamenco guitar work, to latin jazz maestro pianist Eddie Palmieri's beautiful fusion of modal & latin jazz music, Chick Corea's "My Spanish Heart", and especially the impetus for this specific project, David Grisman & The DGQ's canon and unique style and take on latin music from their 1995 album "Dawg A Nova"!
Although "Dawg A Nova" in more ways than one was the real inspiration behind the "Amor en Ritmo" concept, I and The NAC are not only trying to do what David & The DGQ already did, but in fact, relate, honor, expand, and innovate upon what they have done!
There are many "easter eggs" in the record for fans of "Dawg" & SpaceGrass music, as well as jazz, latin jazz, world music, and beyond! So here we go… I hope these song notes provide more context behind the music making and compositions that can be heard on "Amor en Ritmo"!
1. "Bolero de Viaje" by Jason Keiser
"Bolero de Viaje", translates to "travel bolero" roughly was inspired by the film noir & classic jazz standard "Laura" by David Raksin. I was incredibly inspired by Raksin's use of downstep modulation, which in the simplest of terms is where a progression moves functionally to a cadence and becomes its parallel minor; ie: A-11-D7(#9)-Gmaj7(#11)- G-7-C7-Fmaj7, etc… This harmonic movement was used and taken as the inspiration behind "Bolero de Viaje" and the chord progression and feel was established first. Once I came up with the form of the tune, and was happy with that, I began constructing a melody that not only fit the changes theoretically, but was melodic, and singable! This has been an original tune in The NAC's repertoire for many years, and I jumped at the chance to record and have it included! The band and special guest, my great colleague Thomas Cassell plays and interprets it beautifully, I couldn't have done it without each of them! Thomas and I had a fun and particular challenge matching voicings between guitar and mandolin that worked for this tune, what a blast!
2. "Damascus" by Wyatt Rice, arranged by Jason Keiser
"Damascus" was written by my dear mentor and friend, former teacher of mine, and one of my biggest inspirations on the guitar, bluegrass guitar legend; Wyatt Rice. One day, Wyatt and I were talking on zoom during covid, and I had asked Wyatt "Hey Mang, where did you get the inspiration to compose Damascus?", he responded "Mang, I was listening to a version of "Norwegian Wood" that Tony & John Carlini were performing as a duet, and there was this one particular melodic line they played in harmony together. I transcribed that line, and from that, I began to write "Damascus" around the improvised line!"- Wyatt Rice (roughly written based on my memory after we discussed the tune). This is one of my favorite original tunes by Wyatt, and I am very happy to put his compositional voice on display with our rendition. So many people consider him one of the best acoustic guitarists, but not only is he a prolific guitarist, but a prolific composer in his own right too!
3. "Um Abracao" by Jason Keiser
4. "Black Orpheus" by Luiz Bonfá, arr. by Jason Keiser
5. "Poirot's Predicament" by Jason Keiser
6. "Pequeña Avé" by Jason Keiser, lyrics by Melissa Garay
7. "Mugavero" by John Carlini, arr. by Jason Keiser & Mike Mullins
8. "Dawg's Cha Cha" by Jason Keiser
9. "Mobius Mambo" by Tony Rice, arr. by Jason Keiser
10. "Entre Dos Aguas" by Paco de Lucia, arr. by Jason Keiser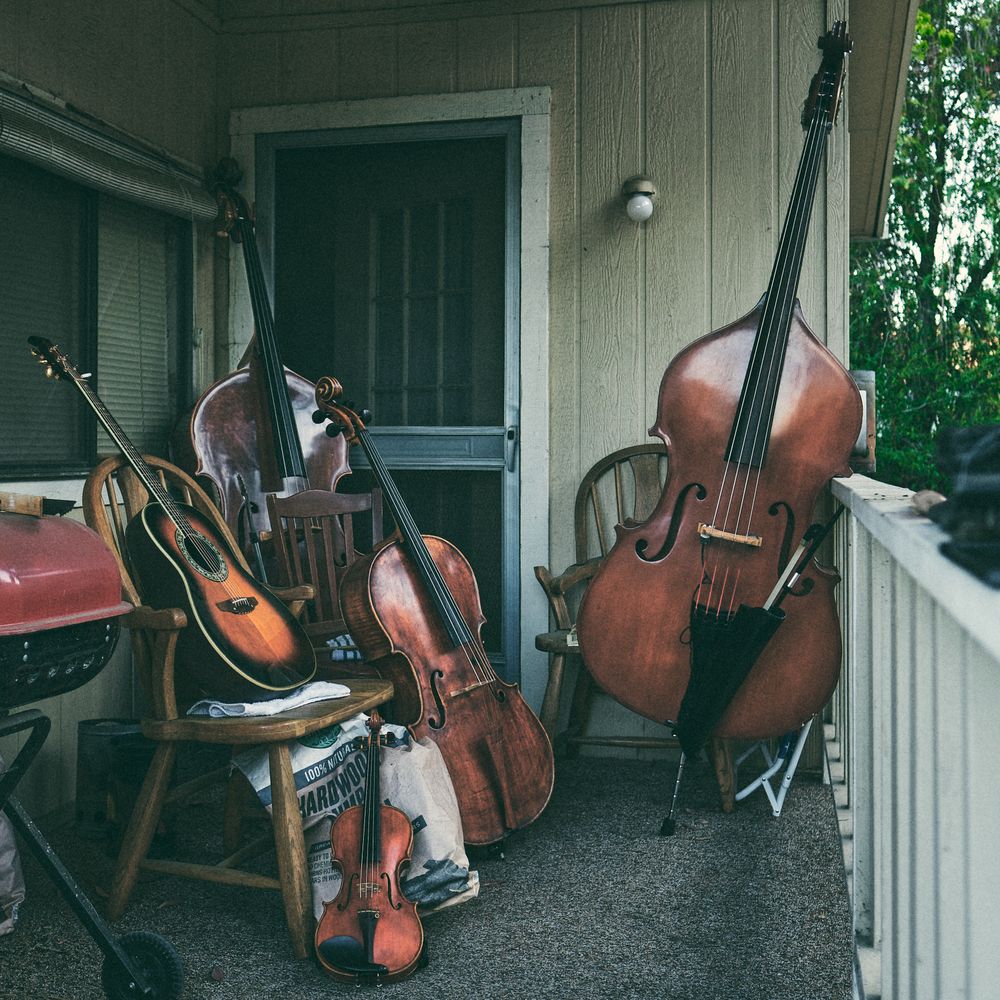 Art of Acoustics Liner Notes
by Bill Wolf 2021
In 1977 the Acoustic Music Consciousness was expanded several orders of magnitude with the recording and release of the first David Grisman Quintet album. David Grisman (mandolin), Tony Rice (guitar), Darol Anger (fiddle), Bill Amatneek (Bass) and Todd Phillips (mandolin) created a new genre, "Dawg" Music (after David's nickname). Dawg Music combined traditional and contemporary Jazz, Bluegrass, Folk, Pop, Latin, and Classical into a style that features both compositional structure and improvisation. The DGQ (with some personnel additions and subtractions) finished out the decade with 2 more albums, Hot Dawg and Quintet '80, firmly establishing Dawg Music.                                                                                                                                                                       
​    In late 1978, Tony Rice released the album "Acoustics", which expanded his contribution to the New Acoustic Music canon. His style was to be called "SpaceGrass" (also the name of his 1970 Dodge Challenger). He went on to form and then tour and record with The Tony Rice Unit (TRU). By 1980 TRU had 2 more credited releases: Manzanita and Mar West. These 3 records had the participation of some of the finest acoustic musicians on the planet: Sam Bush, Ricky Skaggs, Jerry "Flux" Douglas, Richard Greene and Mike Marshall (as well as Todd and Darol from the original DGQ record). Later in the 1980s the Unit would include at various times John Reischman, Fred Carpenter, Wyatt Rice (Tony's brother), Jimmy Gaudreau, Rickie Simpkins and Ronnie Simpkins. The TRU with Tony, Wyatt, Jimmy, Rickie and Ronnie would perform live many times and released (in 2000) the album "Unit of Measure".​
    The DGQ and TRU broke the barriers between the most common acoustic musics (bluegrass, folk) and jazz, pop, rock, classical, latin and flamenco, klezmer, gypsy, country and world music. Their influence was/is profound and lasting.
    Fast forward to November, 2018. Jason Keiser (guitar), David Boyden (fiddle) and Alonzo Sanchez (double bass) begin playing as The New Acoustic Collective in the San Francisco Bay Area. The irrepressible creative urge in their music reflected an obvious respect for the pioneering sounds created by DGQ and TRU. NAC's first single release (in December, 2020) was E. M. D., a David Grisman composition from Dawg's soundtrack for the Corman film Eat My Dust. David Boyden's opening fiddle solo brings back that fire first heard on the original DGQ album. Later in December The NAC released the EP "Buckwild"; six innovative tracks that leave the listener captivated and wanting more.
    With the release of their first full length album, "Art of Acoustics", The NAC delivers nine new recordings. Six are Jason Keiser compositions, one from David Boyden, one from Darol Anger. Also included is the Tony Rice composition "Old Gray Coat", featuring Wyatt Rice on guitar. Jason has studied guitar with Wyatt and considers him a mentor. 
    The album is a journey in space and time. The first movement of Jason Keiser's "Back in California" (00:00-00:47) untethers us from gravity in preparation for the adventure. The first sensation of acceleration is a clear reference to Dawg's innovation tied by a brief pause to a touch of SpaceGrass, some classical organization and back to Dawg. Latin rhythm and harmony set us up for the first improvisation section. It's the double bass taking the first break. The NAC is perhaps unique in the improvisation opportunities it provides for double bass. DGQ and TRU always had places for their bass players to solo, but The NAC has the double bass as a full member of the improvisation team. "Back in California" boasts both pizzicato and arco bass solos. At 04:23 the guitar continues the Latin feel with obvious Flamenco reference. Jason then solos over a hypnotic rhythm established by the double bass. Cello and arco bass trade through a solo section culminating in a series of unison lines which brings us back to the early Dawg. All this in just the first tune.
"Howies Breakdown" takes us through the early part of our continuum trip with a steady SpaceGrassy bounce. Solos by fiddle, cello, pizz bass, and guitar (with some dexterous octave work) keep the energy high. The occasional G-run can't help but bring a smile.
    "Key Signator", composed by Darol Anger, is a live performance staple of the group. It showcases David Boyden on fiddle. His soulful statement of the melody leads to a solo with some smoothly integrated cross-bow licks. Then Jason treats us to a staccato style solo that starts out with a plucked fiddle quality. This is followed by a pizz bass solo over chugging fiddle backup. Then David restates the melody for the final head, accompanied by some fills from Jason. 
    Next, "Bog Mummy Takes the Wheel". Whatever Bog Mummy is, it has definitely taken the wheel. With time changes reminiscent of 20th Century Classical and jazz compositions, composer David Boyden subjects us to a kind of musical whiplash that is both exciting and mesmerizing. Time compressing and expanding seamlessly, our journey takes a relativistic turn only to bring us back to familiar territory.
    Who better to kick off Tony Rice's "Old Gray Coat" than Tony's younger brother, Wyatt? Only Wyatt could bring back his brother's full, rich tone for us to enjoy again ("Old Gray Coat" was first released on "Acoustics"). This version features solos from Wyatt, David, Jason and Alonso (double bass). Jason's use of alternative scales would get a smile from Tony.
    Jason's "Grapejelly" accelerates us out of the solar system with some Gypsy Jazz. The song's title is a pun on Grappelli (Stephane), the great 20th Century jazz violinist and founder of the Quintette du Hot Club de France with Django Reinhardt. This tune gives The NAC soloists a chance to demonstrate their dexterity and some nimble cello work is a pleasant surprise midway through.
    "Tranescale" is a relaxing tune moving us out into deep space. Influenced by John Coltrane's modal period and Artie Traum's "Fishscale" (recorded on the original DGQ album) this composition from Jason also features a turn-around inspired by tenor saxophonist Joe Henderson. The NAC gives the 5/4 time signature a lilting, transparent feel, vibrating us through consciousness at every turn-around. Infinite possibilities become natural and expected.
     "Jazzology'' begins with a moment of free-floating weightlessness then cycles through two contrasting sections. First is a syncopated jazzy section over an E pedal. The melody is stated by the pizz double bass which morphs seamlessly into Jason's guitar. The next section is a classic bluegrass rhythm (with SpaceGrass influence) in the key of G. These contrasting A and B sections present a challenge to the NAC soloists, who handle it effortlessly. Compositionally, Jason cleverly connects the repeated A sections, the A sections to the B sections, and the B back to the A with the same chord series (B, C, B, C, B), bringing continuity to the different styles.
As its title suggests, "For Flux" pays respect to dobro great Jerry Douglas. Jason's slippery left hand mimics the dobro slide. The composition is influenced by two tunes from Flux: "Cave Bop" and "Pushed Too Far". The melody is all Jason's – a relaxing and swaying feel, even during the high intensity ensemble lines. The creative chord structure allows the soloists to work around multiple scales, amplifying the swaying emotional feel.
    Like "Buckwild", "Art of Acoustics" leaves us wanting more. Fortunately, this project – seven new compositions and two classics, performed by some of the finest young acoustic musicians – requires multiple listens to fully appreciate. Enjoy the journey. You can be sure there is a lot more to come from The New Acoustic Collective. 
By ​Bill Wolf Professional Engineer Wolf Productions Inc. Engineered, recorded and mixed the following classic New Acoustic Music recordings: "The David Grisman Quintet"; (1977), "Hot Dawg"; (1978), "Quintet '80"; (1980) The Tony Rice Unit "Acoustics"; (1978), Tony Rice "Manzanita"; (1979), The Tony Rice Unit "Mar West"; (1980), The Tony Rice Unit "Unit of Measure"; (2000).​​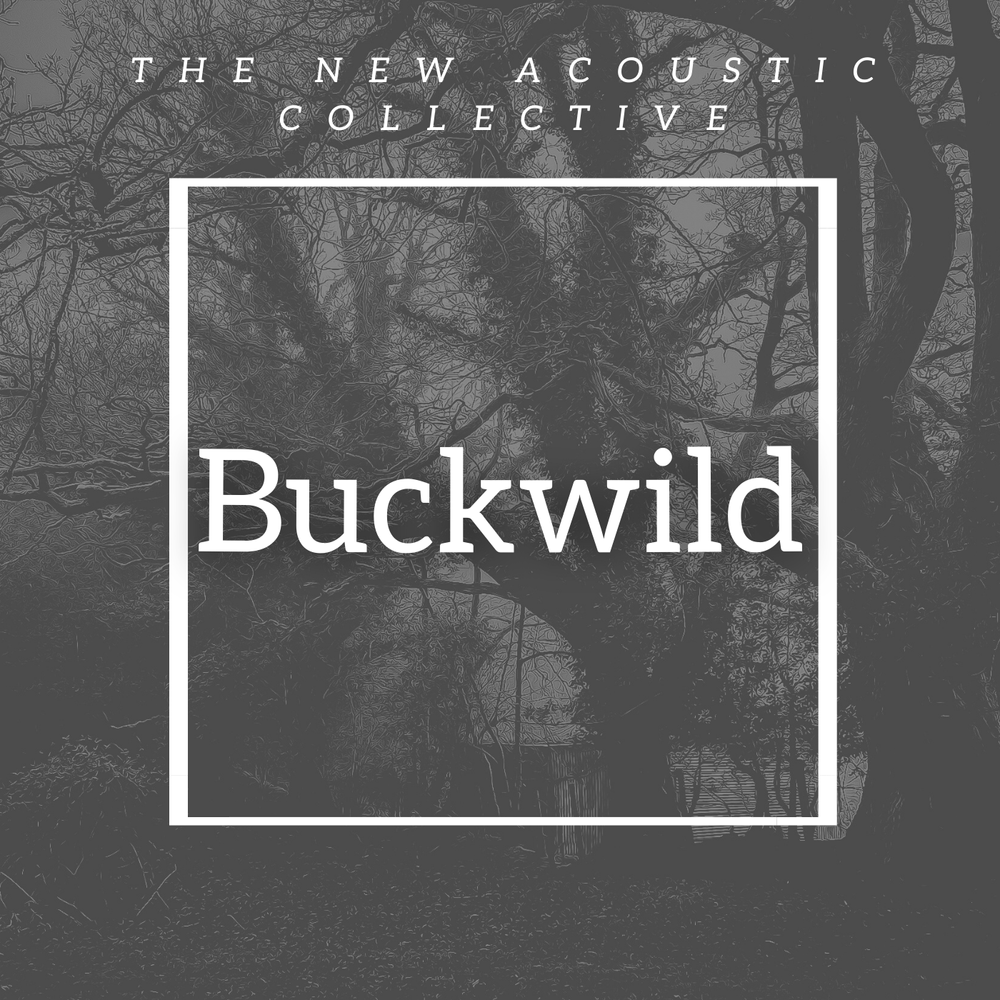 Buckwild Liner Notes
by Wyatt rice 2020
It was the year 1976, and I was 11 years old, and got to witness something that was a musical life  changing event for me. I got to see The David Grisman Quintet rehearse in Grisman's home for  their upcoming album that was released the following year, 1977. Seeing this musical event  made me catch what I like to call the "spacegrass and dawg music bug".  
Fast forward many years later, I met Jason Keiser when I taught him guitar in the Bluegrass,  Old-Time, & Country Music Studies program at ETSU years ago. Jason came to me to learn  these innovative styles of acoustic music because he had also caught the "spacegrass and dawg music bug".  
Regarding the tunes on "Buckwild", the record starts with "Dave's Place". Dave's Place was a  tune I wrote many years ago that was my first attempt to write a Dawg, SpaceGrass type of tune with a bluegrass twist. The A section or head was the main melody I was going for, but I knew it  needed a B part, so that's what I call the Bluegrass section. It was just that way, giving the soloist  the freedom to improvise the B section. In The New Acoustic Collective's rendition there is a  very nice intro that's longer, and upbeat. I really like how the cello adds a special flavor to it.  Jason does a nice melody version up front, and a superb solo after the violin. Strong, and very  jazzy. The violin solo by David Boyden is fantastic as well, then a great bass solo by Alonso  Sanchez. Wow! A great performance The New Acoustic Collective featuring Jason and  Company. A more jazzier version than mine minus the banjo with cello added to the mix.  
The New Acoustic Collective pay a wonderful tribute to the original David Grisman Quintet in  their version of "E.M.D.". Their version is great and I love how it sounds, it is so energetic and  upbeat!  
"Val's for Dawg", is an original composition of Jason's that I am very proud of. It has Dawg  written all over it and I thoroughly enjoyed the collective's playing and improvisation throughout  this new dawg music tune.  
Overall, the music you hear The New Acoustic Collective play on their debut EP "Buckwild"  holds and carries on the legacy of New Acoustic, Dawg, and spacegrass music to another  generation of listeners, and musicians interested in mastering these innovative improvisational  styles of music. I couldn't be more proud of how Jason and Company are carrying on the torch of  dawg, and spacegrass music and highly recommend you check out "Buckwild", by The New  Acoustic Collective
© Wyatt Rice, December, 2020