Bio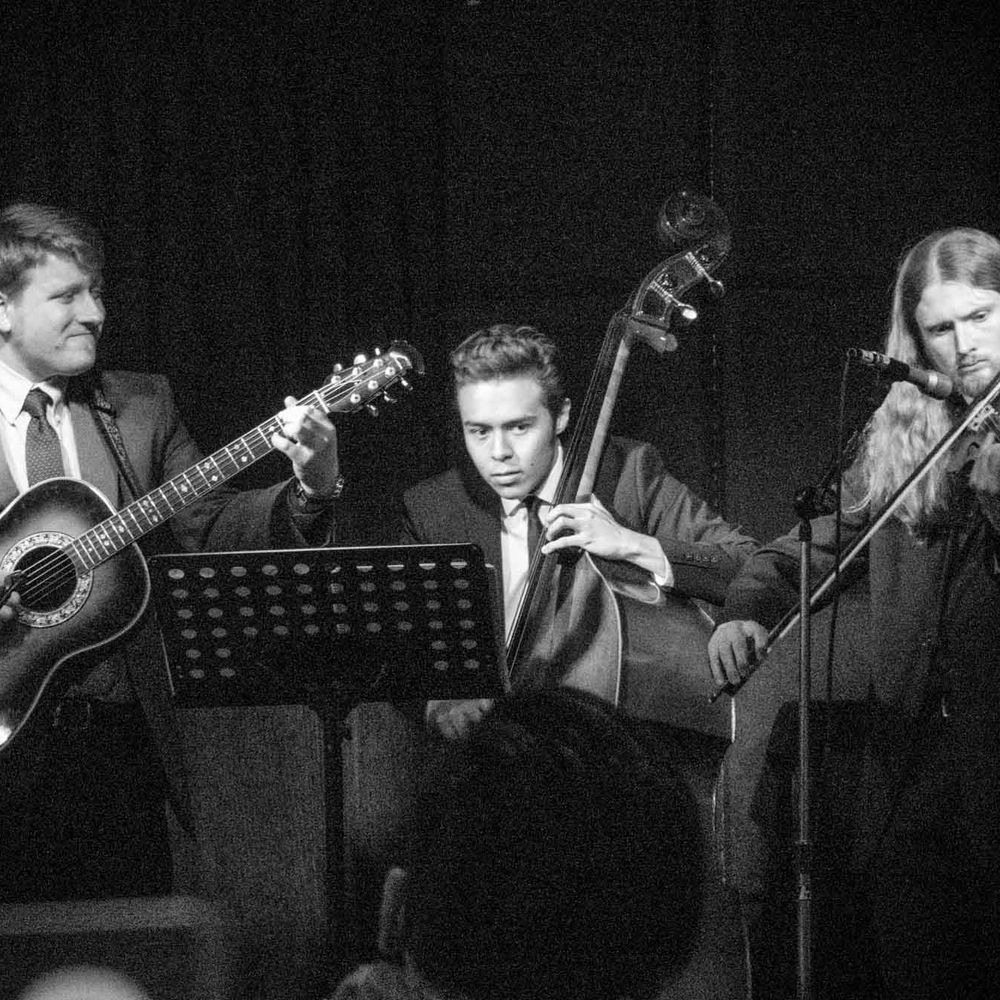 The Beginnings of The New Acoustic Collective Circa 2017...
Jason Keiser founded The New Acoustic Collective in the winter of 2017 while on a semester winter break from his studies with bluegrass guitar legend; Wyatt Rice. Wyatt taught Jason "Dawg", SpaceGrass (a term penned by Wyatt's older brother; the late-Tony Rice), and New Acoustic Music at East Tennessee State University. At the time, Jason was learning music by David Grisman, Tony Rice, Wyatt Rice, Richard Greene, and many more, and wanted to find a way to be able to practice and express his musical ideas in a band setting. The first official gig for The NAC was at a local jazz club in Saratoga CA in the winter of 2017; Live at Cafe Pink House featuring Jason Keiser, and former members; Alonso Sanchez (bass), & David Boyden (fiddle). The trio rounded out the core group of The New Acoustic Collective for many years while the band built upon new material, arrangements, and slowly started creating their own musical catalogue and body of recording work.
After graduating from ETSU in 2018, Jason moved back to the Bay Area to begin his Masters of Music in Jazz Studies at the local university well known for jazz, San Jose State University under the direction of Dr. Aaron Lington, with guitar studies by long time mentor of Jason's; Rick Vandivier. During his M.M. in Jazz Studies, Jason began stretching his musical ideas and challenged himself by putting him in other musical contexts, such as the Collegium Baroque Ensemble at SJSU under the direction of Dr. Gordon Haramaki. During this time learning and trying to perfect Vivaldi's Mandolin Concerto, here is where Jason met current NAC members; classical cellist & current student in classical cello performance at SJSU, Nathaniel Grohmann; and classical double bassist and current student in classical double bass performance; Rodrigo Ruiz. Soon after realizing that Nathaniel and Rodrigo were interested in a variety of different styles and open to learning to improvise in more jazz, bluegrass, and experimental musical contexts, Jason offered them to join The NAC as auxilary string members adding a unique classical sound to the bluegrass-jazz chamber New Acoustic Collective.
Since The New Acoustic Collective's beginnings, one of the main musical goals of The NAC is to continue pushing boundaries while honoring the long legacy that David Grisman, The David Grisman Quintet, & The Tony Rice Unit have created. Although The TRU never used brass in their band, The NAC takes additional inspiration from The DGQ with its added flute element, and currently makes use of highlighting a more jazz-oriented horn in the mix that blends beautifully with the strings. Currently, The New Acoustic Collective is made up of many of the top up-and-coming jazz, and classical musicians in the Bay Area, combining a variety of strings, brass, and now on special occasion, vocals to bring a modern and unique sound to the New Acoustic Music canon. The collective currently includes bandleader and composer Jason Keiser (guitar), and Nathaniel Grohmann (cello).
In addition to the current members of The New Acoustic Collective, there are a selected few of rotating special guests that bring their unique expertise, sound, and skills to The NAC in both live and studio recording formats. These special guest collaborators currently include Circus No. 9 bandleader, National Mandolin Champion, Professional Mandolinist & Mountain Fever Recording Artist; Thomas Cassell, Acoustic Oasis Recording Artist, Professional Mandolinist & Composer; Mike Mullins, Acoustic Oasis & Acoustic Disc Recording Artist; Bay Area Professional Bassist; Jim Kerwin, & Bay Area Professional Vocalist, Composer, & Arranger; Melissa Garay.
Regarding their current body of recording work, The New Acoustic Collective has released two albums currently. Their debut EP; "Buckwild" released December 27th, 2020, first full length record "Art of Acoustics" featuring special guest; Wyatt Rice; released in September of 2021, and their upcoming current new album, 2nd full length record and 3rd official album release entitled; "Amor en Ritmo". "Amor en Ritmo" is a special concept record expanding upon the beautiful canon of latin music while fusing bluegrass, spacegrass, dawg, jazz, and world music. It features Thomas Cassell, Mike Mullins, Melissa Garay, & Jim Kerwin; set for release on September 3rd, 2022
Jason Keiser (Bandleader/Guitar))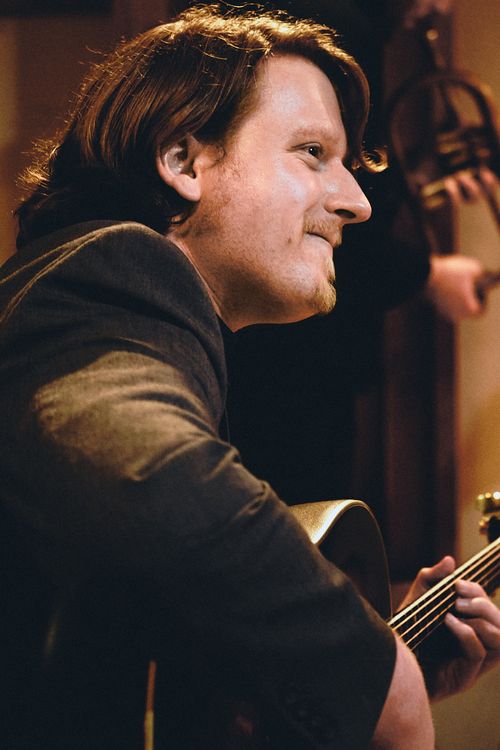 Jason Keiser is a professional guitarist, multi-instrumentalist & multi-stylist, recording artist, band leader, and composer based out of the Bay Area currently residing in Sunnyvale, California. Jason is the band leader of The New Acoustic Collective. 

In addition to leading, composing, and managing The New Acoustic Collective, Jason is an active solo jazz recording and performing artist, composer and arranger who has has recorded, collaborated, and worked with the following artists below.
Professional Jazz guitarist & Origin Records Artist; John Stowell, professional Jazz Guitarist & Professor of Jazz Guitar at San Jose State University; Rick Vandivier, Professional Jazz Guitarist, Origin Recording Artist, Bandleader; Mimi Fox, Professional Bluegrass & New Acoustic, Acoustic Jazz Guitarist, Member of The Tony Rice Unit & ETSU Bluegrass Guitar Instructor; Wyatt Rice, Professional Double Bassist, Acoustic Disc & Oasis Recording Artist, member of The David Grisman Quintet & Sextet; Jim Kerwin, Professional Mandolinist, Acoustic Disc & Oasis Recording Artist; Mike Mullins, Professional Mandolinist, National Mandolin Champion, Band Leader of Circus No. 9, Thomas Cassell, & Bay Area Professional Vocalist, Composer, & Arranger; Melissa Garay.
Jason's most recent solo music release is a jazz guitar record entitled; "The Axe Axis" featuring jazz guitar maestros Rick Vandivier & John Stowell. "The Axe Axis" is out on all platforms and Bandcamp and can be streamed and downloaded here. You can listen to it and find out more on Jason at his personal website here!
Nathaniel Grohmann (Cello/composer)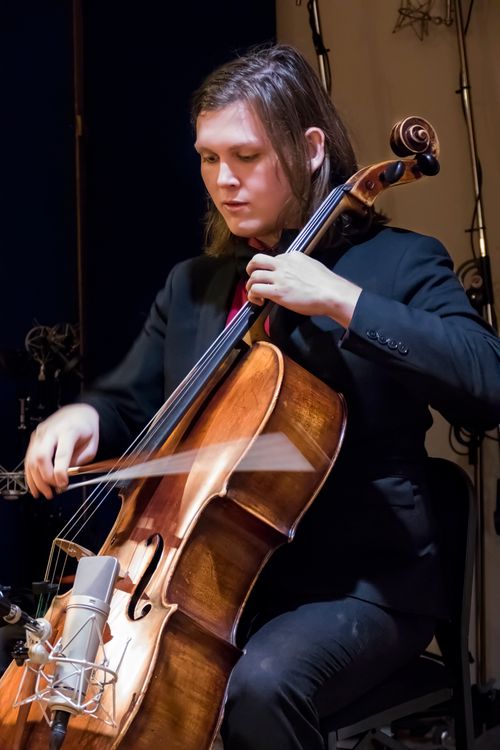 Nathaniel Grohmann is a cellist based in the Bay Area. He is currently attending San Jose State studying under cellist Michael Dahlberg. He has also studied under cellists Peter Gelfand and Paul Hyun, as well as been coached by violinists Motoko Toba, Sarah Jones and pianist Gwendolyn Mok. His musical upbringing was mostly classical, and he has been branching out to other genres over the last year. In early 2020 he performed in the San Jose Jazz Winterfest.